Vila Galé Cayo Paredon
Location
Directly on Cayo Paredon Beach
Accommodation
Standard Room: Air-conditioned •1 Queen size bed or 2 single beds • Bathroom with Shower • Hairdryer • Iron and Ironing Board • Minibar • Coffee Maker and Kettle • Satellite TV • Telephone • Safety Deposit Box • Mini fridge • Balcony or terrace • Garden, Pool, or Sea View • Wi-Fi • 220V
Standard Deluxe: Similar to the standard room but larger
Suites: Similar to the standard room but larger with a living area
Facilities
638 rooms • 4 Swimming pools, including children's pool • Buffet restaurant • 3 À la carte restaurants: Mediterranean, Italian, Portuguese • Snack Bar • Bars • Fitness Room • Theater • Room service • Wi-Fi • Massage ($) • Tennis Court
Distance from the airport to the hotel: 40km (approx. 30 mins)
Dress code in effect at the à la carte restaurants
Note: Pants are mandatory for gentlemen at dinner at the hotel's restaurants.
Telephone: (+53) 33 320 400
Inclusions
Breakfast, lunch, dinner and snacks included daily (24hrs)
Dinner at à la carte restaurants (reservations required)
Selection of national and international drinks
Daily activity program including:
Tennis court
Non-motorized water sports (subject to availability)
Evening entertainment
Other Destinations in Cuba
Overview
Exciting Things To See & Do
Destination Map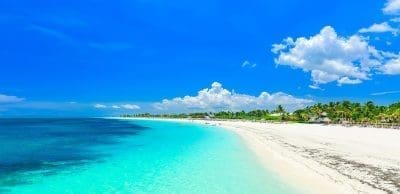 Cayo Paredon
Cayo Paredon is a beautiful tiny island of only 8.7 km2. This gem is a new destination being offered and up for some exciting tourist experiences. This island is located in the King's Gardens archipelago (Jardines del Rey in Spanish). This little paradise is located north of the largest island of the archipelago, Cayo Romano, in the province of Camagüey in Cuba. Cayo Paredon is about 30 km away from Cayo Coco (CCC) International airport. Cayo Paredon has some of the best beaches in Cuba, made of very fine white sand, with crystal-clear turquoise waters. A great place to relax or to walk and soak up the sun.
Learn More
Finest fishing destination in Cuba
Visit the city of Camaguey
A small catamaran ride
Water sports and much more......