Hola Club Rancho Luna
Location
On the beach. Only 15 mins away from Cienfuegos city.
Accommodation
Standard Room: Air-conditioned • 2 Twin beds • Bathroom with shower • Telephone • Satellite TV • Safety deposit box • 220 voltage
Standard Ocean View Room: Same as a standard with an ocean view
Standard Family: Same as standard room with connecting doors ideal for families and groups accommodating 5 bodies in the unit. Please inquire on bedding for each room
**Shuttle service to Cienfuegos may be purchased at the front desk, subject to availability
Facilities
222 Rooms in 3 blocks of 2 storey buildings • Swimming pool • Lounge chairs • Buffet restaurant • 2 À la carte restaurants: International and Caribbean, reservation required (for a minimum of 8 people)• Beach grill • Bars (lobby, pool, beach) • Diving centre near Faro Luna Hotel ($) • Medical service ($) • Souvenir shop ($) • Internet ($)
Telephone: 011 53 43 87 4408 • Distance from Cienfuegos Airport to Hotel: 20km (approx. 15 mins.) • Distance from Santa Clara Airport to Hotel: approx. 95km
Note: Please inquire about bedding when booking children
VIP Added Values: Free Upgrade to Ocean View Room (Subject to Availability), Welcome Cocktail, Express Check-In, VIP Wrist Band, Welcome Detail in Room Upon Arrival, Beach Towels in the Room on Arrival, Minibar Stocked Upon Arrival with Assortment of Beverages, Restocked Every Two Days, Special Dinner (Reservations Required), 2 Guaranteed Weekly Reservations to The Specialty Restaurant. Reservations Can Be Pre-Booked in Canada by Emailing: Public Relations Rpublicas@Ranluna.Cfg.Tur.Cu, Or, Sales Manager Rpublicas80@Ranluna.Cfg.Tur.Cu. Late Check Out Until 3:00 Pm (Subject Availability).
Inclusions
Buffet breakfast, lunch and dinner daily
2 À la carte restaurants, International and Caribbean (reservations required with public relations)
Option to dine at next door hotel Hola Club Faro Luna, À la carte restaurant, international (transportation not included)
Special dinner for repeat guests
Unlimited domestic and non-premium international drinks
Non-motorized water sports as available: snorkeling, pedal boats & kayak
Daily activity program: volleyball, ping pong, billiards, aerobics, dance lessons, and mini golf
Nightly entertainment
Retro music karaoke nights
Other Destinations in Cuba
Overview
Exciting Things To See & Do
Destination Map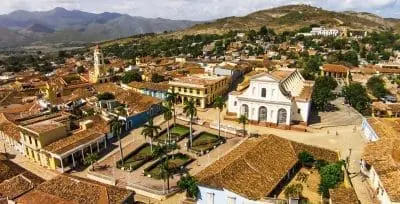 Cienfuegos
Located on the south coast of Cuba facing the Caribbean Sea, this friendly and unique destination has become popular among Canadians inviting lovers of history, architecture, and nature. Surrounded by sugar cane, tobacco fields and botanical gardens, the "Pearl of the South" region caters to different types of interest. Divers and snorkellers will be amazed by the underwater sea life, as the water temperatures are ideal throughout the year. The most colonial city in the area is Trinidad with its architecture and cobblestone streets. The warmth of its people, its history and culture, and not to mention, the best beaches of the southern coast of Cuba, intrigues visitors year after year.
Learn More
Visit the spectacular El Rocio waterfalls & trek up the mountains
Enjoy a catamaran island tour with snorkeling
Tour the historical city centre of Cienfuegos and admire all the monumental aspects
Take a walk through the colonial city of Trinidad and all its city squares