Hotel Jagua
Location
In the heart of Cienfuegos city.
Accommodation
Standard Room: Air-conditioned • Balcony or Terrace • Satellite TV • Hair dryer • Telephone • Mini bar • Safety deposit box ($) • 220 Voltage
Facilities
149 rooms • Swimming pool • Restaurants • Conference room • Parking • Medical service ($) • Lobby Bar • Snack Bar • Elevator • Laundry ($) • Internet ($) • Currency exchange ($) • Car rentals ($) • Post office ($)
Telephone: 011 53 43 55 1003
Distance from Airport to Hotel: over 15 km (approx. 15 mins.)
Inclusions
Other Destinations in Cuba
Overview
Exciting Things To See & Do
Destination Map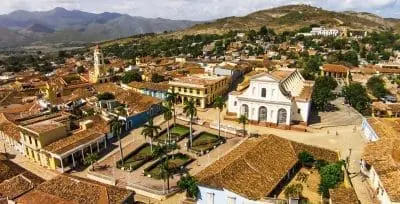 Cienfuegos
Located on the south coast of Cuba facing the Caribbean Sea, this friendly and unique destination has become popular among Canadians inviting lovers of history, architecture, and nature. Surrounded by sugar cane, tobacco fields and botanical gardens, the "Pearl of the South" region caters to different types of interest. Divers and snorkellers will be amazed by the underwater sea life, as the water temperatures are ideal throughout the year. The most colonial city in the area is Trinidad with its architecture and cobblestone streets. The warmth of its people, its history and culture, and not to mention, the best beaches of the southern coast of Cuba, intrigues visitors year after year.
Learn More
Visit the spectacular El Rocio waterfalls & trek up the mountains
Enjoy a catamaran island tour with snorkeling
Tour the historical city centre of Cienfuegos and admire all the monumental aspects
Take a walk through the colonial city of Trinidad and all its city squares